ELISA assay are often used to quantify host cell protein (HCP) contamination of the product. The 1D and 2D SDS PAGE tests described on this page are used to characterize anti-HCP antibodies chosen for the ELISA (see HCP Method for method overview) or provide orthogonal tests for biologics testing. Similar tests are used to verify HCP removal from semipurified or purified Drug Substance (DS).

In these tests, the number of protein spots on 2D film patterns from an optimized anti-HCP western blot are compared to the number on silver-stained patterns from the same HCP or DS sample. Light and dark films are used to create a detailed report.
For ELISA antibodies, detection of a high percentage of the silver-stained proteins is desirable.

For DS preparations, evidence that the DS contains few or no detectable HCP proteins using an orthogonal method is desirable.

Assay Variability: This complex assay has been highly standardized at Kendrick Labs with SOPs  for every step; Biochemists and 2D Analysts are well trained. In two instances HCP antibody analyses were performed in triplicate on the same sample, i.e. 1 run/day on 3 different days, with each run analyzed by a different 2D Analyst. In one case the Coefficient of Variation (SD/Mean*100, n = 3) for the % coverage result was 8.1%; in the other, the CV was 5.1%.
Analysis packages are offered for:
ELISA Antibody Reactivity with Complex Null Cell or DS-containing Whole Cell Lysates
Semi-Purified or Final Drug Substance Analysis
Custom analysis is available (call to discuss)
2DE HCP package includes western blot with light and dark exposures, silver-stained 2D gels in duplicate, electronic photos, and computer comparison with complete report. Large format 2D gels (20 x 22 cm) allow a heavier load protein load for the western blot, and give the highest resolution possible for silver stained gels. Western blot optimization is included. Images are always emailed to clients for approval prior to the time-consuming computer analysis. Product spot removal and Run Documentation and Tracking are also available for an additional fee.
For additional information follow the links for overview, method, results/report, and pricing.
The PowerPoints HCP Antibody Analysis, Western-Silver Alignment PP  and the white paper (PDF) that accompanied our poster at the 2015 BEBPA HCP Workshop provide additional information. Examples of Letter (PDF), and Report (PDF) are available.
Example 2D images: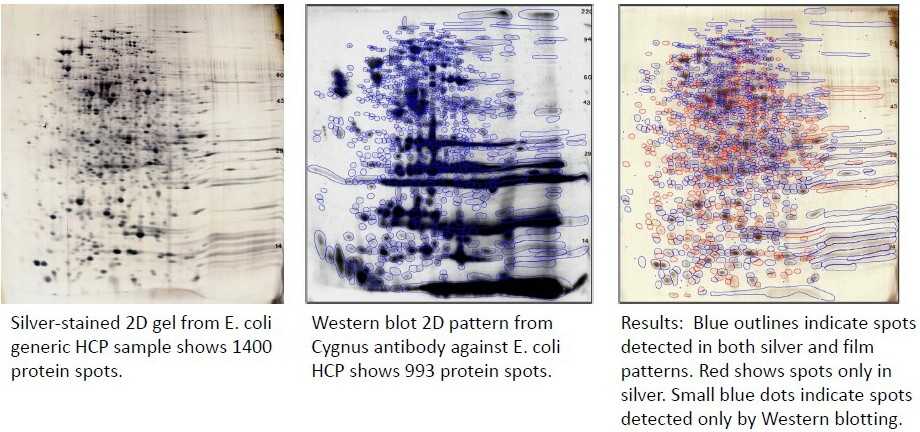 Results of HCP Analysis: 993/1400 total spots are detected by the antibody = 71% coverage. Individual protein spots of interest may may be identified by mass spectrometry. See slide 9 of the PowerPoint anti-HCP Antibody Analysis for higher resolution of the images and the Western-Silver Alignment Powerpoint for computer analysis details.
Please feel free to call or email Matt Hoelter, Western Blot Manager (matt@kendricklabs.com, 800-462-3417), or Jon Johansen, Lab Manager, (jon@kendricklabs.com, 800-462-3417) to discuss your project and receive a price quote without obligation.