Academia
Professors, Scientists, Postdocs, and Grad Students:
Let Kendrick Labs' specialists prepare precious protein samples and generate data for you using 1D and 2D SDS PAGE. We'll proceed with Western blotting if needed, and analyze the complex patterns using a calibrated densitometer and sophisticated software.
What you'll get:
Expert Advice: Confidential discussions with expert protein biochemists about how to proceed. We'll be on your side – no upselling.
Data: Original dried gels, images, and method details suitable for publication. Complete custom reports are provided for computer analyses.
Strong guarantee: If something goes awry either on our end or yours, free repeats are performed. We won't leave you hanging.
Academic Labs have been taking advantage of our custom protein analysis since 1983. Check out more than 300 Publications that acknowledge Kendrick Labs or show our gels.
How to Proceed: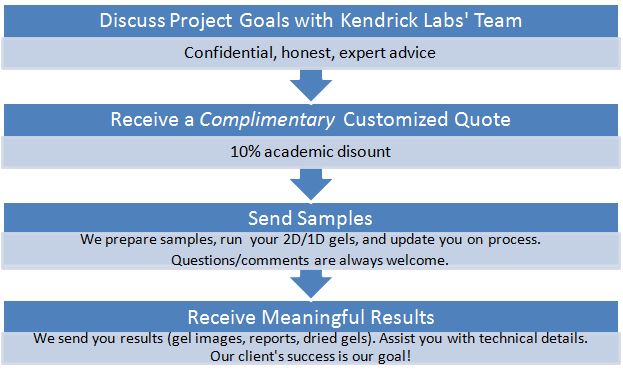 Questions? Contact us to discuss your project.
Academic Labs receive a 10% discount on all projects!
Examples of 2D Patterns from Diverse Sample Types:
Our lead scientists, Lab Manager, Jon Johansen, and Western Blot Manager, Matt Hoelter, have successfully worked with thousands of scientists across the world to optimize analysis of proteins of interest.
Examples of the samples we've worked with: bacteria (gram +, gram –), human (clinical samples/tissues, cell lines), insect, rodent (cell lines, tissues), plant, yeast, post translational modifications (acetylation, phosphorylation), and tissue types (brain, bone, adipose, liver, muscle). For even more examples, see our gallery or check out publications.
Recent Examples
Kendrick Labs' results are used as both minor, supportive parts of papers, and in other cases our results figure prominently.
2D SDS PAGE & Computer Comparison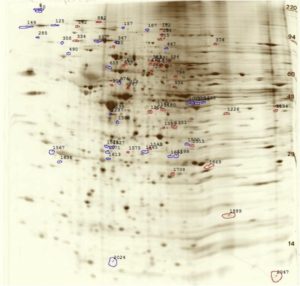 L. Ou, et al., Proteomic analysis of mucopoly-saccharidosis I mouse brain with 2D polyacrylamide gel electrophoresis, Mol. Genet. Metab. (2016).
While studying Hurler syndrome, Ou et al requested that we use 2D SDS PAGE and perform computer comparisons of complex 2D patterns to identify potential biomarkers. Protein spots identified as significantly up or down-regulated in computer comparisons were identified using Mass Spec.
1D gels of all kinds



L. Emelyanova, et. al. Selective downregulation of mitochondrial electron transport chain activity and increased oxidative stress in human atrial fibrillation. Am J Physiol Heart Circ Physiol (2016).
During a study on the relationship between mitochondrial dysfunction and atrial fibrillation, Emelyanova et. al. requested that we run 1D blue native gels and Western blots on selected samples.
Western blotting of all kinds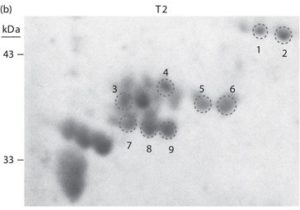 Hergenroeder, GW et al. Identification of autoantibodies to glial fibrillary acidic protein in spinal cord injury patients. Neuroreport, 2016.
In a study to determine the autoimmune responses that follow spinal cord injury, Hergenroeder et al. requested that we run 2D SDS PAGE gels from human cadaver brain tissue followed by Western blotting using plasma collected at acute and subacute time points after injury.
Academic Origin
Kendrick Labs was founded in 1981 by Nancy Kendrick after she received a Ph.D. in Neurobiology at Washington University in St. Louis (peptide structure/function) and completed two postdoctoral fellowships: Wash U (synaptosomal calcium transport) and University of Wisconsin-Madison Biochemistry Dept (vitamin D-dependent calcium transport). She started Kendrick Labs in her basement with the help of a group of terrific postdoc friends who worked for beer. The original influence of three dynamite professors (Garland Marshall, Mordicai Blaustein, and Hector DeLuca) at two excellent universities has been passed on as the business grows.
Jon Johansen, now Lab Manager, joined her immediately upon his graduation in 1985. Jon's problem solving skills were evident right from the start. His accumulated experience in the field of protein biomedical science and electrophoresis is now immense. Clients value Jon's lightning-fast honest advice.
Matt Hoelter, now Western Blot Manager, joined Kendrick Labs as a Biochemist in 2004, was promoted to Senior Biochemist in 2010 and to Western Blot Manager in 2013. Matt is a seriously good problem solver as well. He works closely with Jon and the team, plus is a key contact person for clients.
Ginny Powers joined in 2015 as a Project Facilitator and Senior Biochemist. She came to Kendrick Labs with academic research experience (PhD in Molecular and Cellular Pharmacology, Postdoc in Pharmaceutical Sciences, and Asst. Scientist at UW-Madison). She works closely with the team and is also a contact for our academic clients.
Over the ensuing years, Kendrick Labs, Inc has grown into a CRO (contract research organization) employing a highly-trained team of 12 that includes: Biochemists (all have a BS in Biochemistry), Quality Assurance staff, and Lab Tech support. Our team specializes in custom protein projects for clients in academic labs and in the private sector. We understand the pressures faced by academic lab groups to publish and obtain grant money. Kendrick Labs' work adds value to your projects and we strive to work with your budget and timeline.
Client Comments
"I am pleased with the expediency, efficiency, pricing and customer service I have received from Kendrick Labs. Jon has been of great help. We will definitely look to you for our future needs and will recommend Kendrick Labs without hesitation to any of my colleagues should they need the service. Budgets are tight for Academic research and every little bit helps, so thank you for recognizing that."
Padmini Malladi, Research Scientist, Children's Hospital of Chicago
"Thank you for the help and expert advice you have provided, which was important at key stages in my research career. Your advice for a PhD candidate's proteomic experiments allowed her to complete her thesis work and she has had a very successful research career since that time. "
Robert M Snapka, Ph.D. Professor Emeritus, The Ohio State University
"I have been ardent supporter and proponent of the Kendrick labs. You folks helped me identify a very interesting protein in mesothelioma patient derived cell line. The service was outstanding."
Anil Wali, Ph.D, Program Director, National Cancer Institute/NIH